Focusrite has recently announced their latest range of products, the Vocaster, which is billed as the essential recording tool for podcasters.
With the Vocaster it's easier than ever for podcasters to get started, have polished audio, and get their show to that professional standard.
The technical hassles that we've all experienced with routing audio in & out have been removed, so you can focus on what matters; telling your story, sharing your passion, and building your audience. It is not just content that makes podcasts successful - the audio quality is equally important, too. The Vocaster really is an indispensable tool for any podcaster looking for that broadcast-quality audio.
Using the Vocasters podcasters can deliver audio that is clear, consistent, and high-quality to their audience. Keep the listeners focused on the message by automatically setting appropriate audio levels without introducing unwanted noise.
With Auto Gain, Enhance, Easy Start, and everything you need to edit, it's never been easier to create the perfect podcast audio. The Vocaster is small, light, and powered by a computer, so podcasters can start recording straight away wherever they are.
Vocaster One & Vocaster Two
Designed for solo podcasters, Vocaster One provides high-quality sound with confidence & ease. Create professional recordings by setting your levels, enhancing your sound with a single click, and gaining access to award-winning support.
With Vocaster Two, you can produce more dynamic shows involving two hosts or guests, as well as audio segments. There are two microphone inputs and two headphones outputs on this interface. It is also possible to receive guests over the phone via Bluetooth or using a single cable (TRRS to TRRS cable, not included).
Vocaster Studio Bundles
As well as the interfaces themselves Focusrite have also released some bundles that include a microphone & cable. These are perfect for those starting from scratch, no need to worry about what microphone might work best with the interface, dive straight in with these bundles.
Vocaster One Studio
The Vocaster One Studio is the entry-level bundle that includes: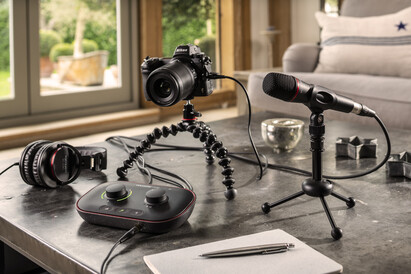 Vocaster One
Headphones: HP60v Headphones
Microphone: DM1
3m XLR Cable
USB A-C Cable
This bundle includes a dynamic microphone rather than a condenser which although unusual for studio recordings is preferable for podcasting due to the directional pick-up patterns and their lower sensitivity. This means that you won't pick up as much background noise from others in the room or from things like typing whilst you're trying to record your guest.
Vocaster Two Studio
The Vocaster Two Studio bundle is the next tier up, it includes: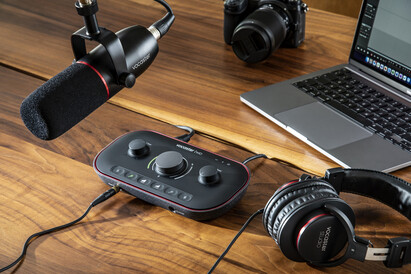 Vocaster Two
Headphones: HP60v Headphones
Microphone: DM14v
3m XLR Cable
USB A-C Cable
This one comes with a more professional quality dynamic microphone, the DM14v. This microphone gives you a truer representation of your voice and has a really low noise floor. It also has an integrated shock mount and windshield, as well as a tilt mount for making those adjustments in position.
Included Software
Included with the purchase of any of the Vocaster units is the Vocaster software bundle, a complete suite worth over £550. It is the first ever software bundle designed specifically for podcasters included with an audio interface.
Acast
Focusrite has partnered with Acast, Acast is a world-renowned, independent podcasting powerhouse, offering creators and advertisers everything they need to engage millions of listeners within the open podcast ecosystem.
Including a curated ad marketplace and membership features, Acast helps podcasters connect with their paying fans, grow their podcasts, and then monetize them.
The deal includes Acast's Influencer plan. This plan falls between the free "Starter" plan and the higher-end "Ace" plan, costing $14.99 per month. Ace and Influencer both offer monetization options. The Focusrite promotion saves podcasters £80 over six months of free hosting. The full list of features can be found below:
Unlimited hosting and downloads of episodes
Distribution to every podcast app and directory
Listener support — including paid subscriptions and donations
Podcast website
Custom web player
Advanced podcast analytics
Make money through ads and sponsorships
Amazon Music, Spotify, and YouTube integrations
Headliner audio-to-video tool
Hindenburg
Included with the Vocaster is Hindenburg Lite & a 6-month Hindenburg Pro trial.
Hindenburg is a bespoke DAW designed for recording & editing podcasters. Essentially it's a stripped-back DAW that has done away with features irrelevant to podcasting to keep the software easy to use.
SquadCast
Finally, you get a 3-month subscription for SquadCast Pro + Video. Founded in 2017, SquadCast is a SaaS remote recording platform designed to provide podcasters with superior audio and video quality. You can host remote calls with your podcast guests or co-hosts through SquadCast. SquadCast records your audio and video live. It's backed up to the cloud while you record, so you can access your recordings quickly when you're done.