Pioneer DJ has announced a range of new models in the DM series: The DM-50D-BT & the DM-40-BT (also available in white) bring Bluetooth connectivity to the already popular DM-50D & DM-40D which arrived on the market late last year. Adding the Bluetooth wireless connectivity makes using these speakers for both critical listening (via a computer or audio hardware device) & easy listening, for instance from a smartphone, mobile device, or PC / Mac.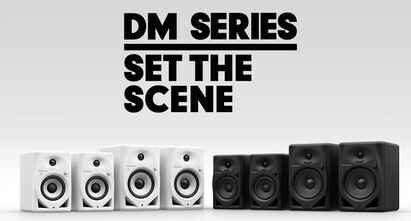 DM-50D-BT: Click here to grab a pair now.
DM-50D-BT-W: Click here to grab a pair now.
DM-40D-BT: Click here to grab a pair now.
DM-40D-BT-W: Click here to grab a pair now.
These fantastic additions to the series bring crystal clear sound at an affordable price for both DJs & producers.
The 5" DM-50D's are the option of choice for producers, with little more oomph they will easily fill your home studio with an even and flat frequency response to enable you to get those minute details in your mixdown just right. The 4" version of the DM-40D-BT is perfect for the smaller studio or DJ spaces, or even just for a superior listening experience in a lounge or bedroom.

KEY FEATURES
Modern design for a high-quality crystal clear sound.

The front bass reflex port means that you can place these close to a wall with minimal reflections causing fewer issues with your mixdown.

The "DECO" convex diffusers have been added to the waveguide to increase the width of the sweet spot.




Built-in DSP (Digital signal processor) that introduces a 2-way sound mode one optimized for DJing and another for music production.

Bluetooth® connectivity (Bluetooth® models only)

Easy to use with different DJ or production equipment.

With a range of connectivity options: RCA, 3.5m Jack & TRS ¼" Jack (DM-50-Ds only) you can connect these up in any way you see fit.