Akai Professional has just made a huge announcement and this one is a massive game changer. Introducing the MPC Key 61, the world's first standalone production keyboard. Essentially the love child of an MPC Live & a 61-key production midi keyboard this device takes standalone performance and production to the next level.
The MPC Key 61 features all the same professional quality plug-ins & instruments that are included with the MPC and then some, giving you the tools needed to create high-quality productions and to perform these live.
It's the first MPC to include a 61 key semi-weighted keyboard with velocity and aftertouch, giving you the ability to instantly perform your tracks including the musical elements in a tactile way without the need for additional hardware.

History

MPC has been a staple of the production world for almost half a century. It's unique sequencing & sampling workflow has shaped the hip hop, pop & dance scene for the last 35 years. MPC has always been a standalone-based system which means you don't need a computer in order to create or perform your music and this model is no exception to this tradition but moves the concept to the next step in it's evolution.
Drum Pads
Just like the original MPC the MPC Key 61 has 16 touch & velocity-sensitive drum pads with aftertouch, these allow you to program and perform drums in that classic MPC fashion. They feel great to the touch, there responsive and are fully RGB supported, this means you can select what colour each pad shows as to help indentify the type of sounds. The pads are the same size as the MPC one so they do not take up to much real estate.

Transport controls and manipulation features

Of course, it has got built-in transport controls that give you full control of your sequences seamlessly whilst performing with the keyboard & drum pads.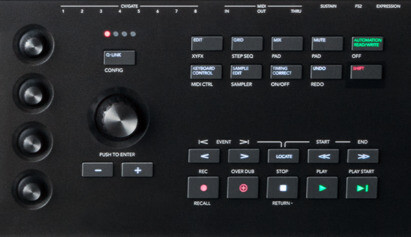 The MPC Key 61 also includes features that introduce new ways of manipulating sounds via the assignable Touch Strip controller and Q-LINK knobs.
As is standard now on any keyboard production you also have the pitch and modulation controls via the touch wheels to the left-hand side.
Presets, sounds & plug-ins
Built into the MPC Key 61 is a wealth of sounds, with 25 modern & professionally sculpted unique plugin instruments you have the tools to create any genre.
Fabric XL
This is the newest synth built into the MPC range, it's a powerful & dynamic synth engine & resampler that uses multi-sample-based syntheses to create pro sounds.
OPx4
A powerful 4-operator FM Synth engine provides that classic FM sound. Integrated with a clean and easy-to-use GUI this synth is powerful yet easy to use.
Other Plug-ins
Stage Piano, Session Strings, Stage EP, and Organ offer the highest quality acoustic instrument plugins.
Stage Piano is a fantastic set of piano sounds that even include a Steinway grand or Bechstein upright for adding that acoustic element to a track.
Session Strings gives you a full range of orchestral sounds that bring the sound of a huge orchestra to your fingertips.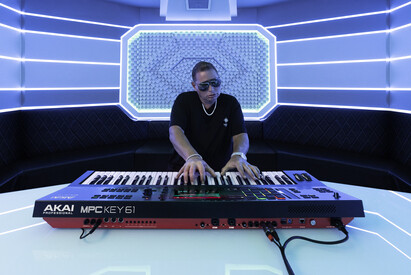 Including everything from exquisite solo violins to intimidating ensembles of bowed instruments, Session Strings provides all that is needed to create stringed layers of depth and dimension.
Finally, Stage EP is a precise emulation of classic keyboards such as Rhodes, FM Electric Piano, Wurlitzer and many more, while the Organ plugin emulates a Leslie speaker with the character and soul of the legendary B3.
In & Out's
Its huge selection of I/O options means that you can integrate this into any studio set-up. Class compliant USB ports allow you to easily connect this with additional MIDI controllers, interfaces or storage devices.
The MPCKEY 61 has 83.5mm CV/Gate outputs that again give you great integration options with various additional pieces of hardware like modular synths.
It's got 2 x twin TRS ¼" JACK outputs that can be used as a stereo pair or as 4 individual mono outputs. The two XLR/Jack combi inputs give you the ability to record instruments & audio sources. You can even use these to create loop-based performances.