Engine DJ 2.1 has arrived, bringing native integration between the Denon DJ LC6000 & the Prime 4. This has been long awaited, and finally brings a 3rd and 4th control surface for deck 3 & 4.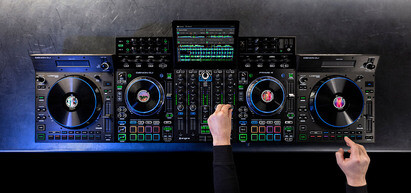 It's also worth noting that the update includes new 4 track horizontal & vertical views and support for Mac OS Monterey & Windows 11 as well as a range of fixes and improvements.
Setting this up is easy as pie, you simply need to install the latest firmware update to the Prime 4 itself. There are 3 easy ways to do this.
Wifi
If you are on at least firmware version 1.4 (You really should have upgraded already to get the most from your unit), you can simply head to the settings (Utility settings on any version lower than 2.02) and press the "reboot" button next to the firmware version.
Once you click on this you can select the Wifi as an option for updating the firmware (You will of course need to have connected your unit to your wifi.). Simply follow the onscreen instructions and the unit will update automatically.
USB
You can also update the firmware via a USB. Simply download the firmware file from the engine DJ downloads page: https://enginedj.com/downloads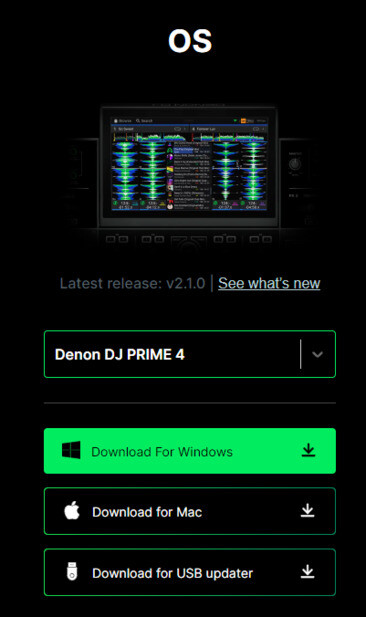 Select the Prime 4 and download the USB updater. Once downloaded you have a .Zip file, this will need extracting.
Once extracted you will need to put the .img file in the root directory of your USB Stick. (Be sure that your USB is formatted to exFat or Fat32)
Pop your USB into the unit and navigate to the settings menu (Utility settings on any version lower than 2.02), click the "Reboot" button next to the "Firmware update" option. The firmware update will then process and when done the unit will reboot.
Computer Installer
This method requires a hard wired USB connection between the unit and your computer.
On the Engine DJ download page select your unit and then select which operating system you're using (Windows or Mac). Once downloaded ensure your Prime 4 is connected to the computer via the USB and switched on. Next you simply run the application file and follow the onscreen instructions. Be sure to turn your computer on and off again once updated.
Now you've done your update, you're ready to smash 4 deck mixing, simply plug your LC6000 into either USB port 3 or 4 (3 for deck 3, 4 for deck 4) and away you go.