Last week Pioneer DJ announced the launch of their latest set of controllers, the Rev range. This announcement is huge for Pioneer DJ, we've seen many all in one controllers for Serato from Pioneer DJ over the years but never one with moving platters, this curveball came out of nowhere and to say we are excited would be the understatement of the year.
So far this set features the DDJ-Rev 7 & the DDJ-Rev 1, however, there does seem to be room for more models to bridge the gap between the two so we will keep our ears close to the ground for those.
The DDJ-Rev 7 & The DDJ Rev 1 are Pioneer DJ's first attempt at controllers with a battle DJ style layout, outlined by the position of the pitch faders which are found above the platters rather than to the left.
The DDJ-Rev 7, is also Pioneer's first venture into the moving platter market and features a fantastic 7" motorised vinyl platter giving you the feel of a PLX-1000 turntable on a controller. However it's not just the motorised platter that sets this controller apart from previous models, it's also jam-packed with other features: traditional feeling performance pads, an on jog display, torque adjust, instant scratch, Magvel fader, 22 built-in beat FX, silent cue, smooth echo & many many more
Let's cover some of these features of the REV 7 in more detail...
Build quality
The device isn't huge, it's just slightly bigger than the DDJ-1000 coming in at 29" wide and is a lot heavier than any previous models, in no short part due to the motorized platters. Don't let this put you off though as it is still plenty light enough to be carried from gig to gig. It's built similar to Pioneer's scratch mixers, with a composite chassis and an aluminium top plate with varying finishes on the mixer and player sections. It feels pretty solid and is durable and rugged.
Connectivity
The DDJ-Rev 7 is not short on connectivity featuring:

2 Master Outs
- 2 x Balanced XLR's (L & R)
- 2 x RCA/Phono
1 Booth Out
- 2 x Balanced Jack.
The unit features 2 mic inputs
- 1 x XLR
- 1 x ¼" Jack
The mics have an individual level control, LOW & HI EQ and an echo to smooth out those dry vocals. It also features a handy talk over feature for auto-ducking the music when talking.
Vinyl emulated platter
The motorized jog wheel is designed like an actual vinyl with a plastic top plate that emulates the feel of a PLX-100 Turntable. With choices between low and high torque, 33 & 45 RPM options, two optional slip mats and an adjustable stop time setting you can really customise the feel of the platters.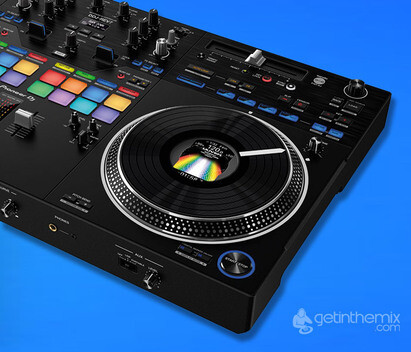 In the middle of the platter, you will find a 3.5" LCD display to show key information about the track you're playing. This info includes a zoomed waveform, full waveform, time stamps, needle tracking, musical key & even the waveform for the opposite track. This means that you can spend less time staring at a laptop and can keep you focused on the hardware and the crowd. If there is one thing I hate about controllers is how often you find yourself staring at a screen instead of focusing on the important things like reading the crowd.
Instant Scratch
Another new feature to the Pioneer range is the instant scratch feature. Built into the unit (So yes these can be used without a laptop when using the standalone mixer) are 4 original scratch samples that are launched by pressing the relevant button on the controller and can be controlled via the platter. You can of course use your own samples assigned inside Serato Pro via the scratch bank feature.
MAGVEL FADER PRO
Get your cut's right with the MAGVEL FADER PRO. Not only is this fader precise and durable but it's also highly customizable with lots of settings that allow you to find the right tension and curve for you.
22 built-in Beat FX including 3 new additions:
As with so many Pioneer units, one of the best features is the built-in beat FX, these standalone beat FX allow you to manipulate your tracks in that renowned DJM style. There is also three brand new and unique beat FX; Duck Down, Fill Out and Helix Out.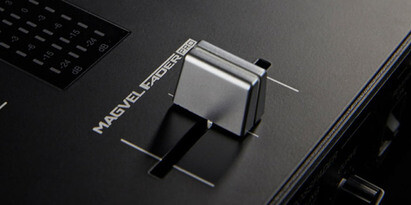 The unit also has battle style FX paddles that can be used to activate or hold the Serato Pro FX's.
Utility Settings
One of the standout features for the REV 7 is how flexible the settings are, you can change so many things about this unit from the onboard utility settings, the precision of the crossfaders, which parameters have the "Smooth Echo" feature activated, the orientation and style of display, or even what artwork is displayed on the jogs.
Overall this unit really ticks a lot of boxes for the scratch/battle DJ, giving you the versatility to take your performances to the next level. Whether you're a budding DJ watching the likes of Jazzy Jeff, JFB & DJ Angelo and want to take your first steps towards their skill levels, or you're already a scratch expert and looking for a fantastic quality all in one, either way, Pioneer has got you covered. If you need any further advice on the DDJ-REV 7 or you want to place an order directly with us at GetInTheMix so be sure to give us a call on 01206 845 125.