This product has been discontinued, take a look at this instead...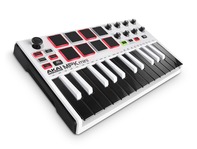 Akai Professional MPK Mini MK2 White
Pre Order
Next working day UK delivery
Akai MPK Mini MK2 LE
Send to a friend
Product Description
The Akai Professional MPK Mini LE Black is USB bus powered keyboard controller that has 25-keys, all of which are black in this limited edition model. Weighing in at only 0.75 kg this MPK Mini LE Black is incredibly lightweight making it so easy to transport anywhere where you want to perform or record. The Akai Professional MPK Mini LE Black is suitable for music producers and live performers of all levels as it has a easy layout for beginners and has enough advanced features for the more experienced users.

Take Control, Wherever you go!
Go mobile without losing control. Akai Professionals limited edition MPK Mini MKII LE Black is an ultracompact keyboard controller designed for the travelling musician and the desktop producer, now available in a striking white and black finish. With a cluster of production-centric in-demand hardware controls coupled with a slim-line ultra-portable footprint, MPK Mini MKII LE Black lets you record, compose and perform with virtual instruments, effect plugins and DAWs whenever inspiration strikes.

Core Control
MPK Mini MKII LE Black includes all the essential tools for quickly laying down and expanding upon your musical ideas. 25 velocity-sensitive synth-action keys, a 4-way thumbstick for dynamic pitch & modulation manipulation, 8 backlit velocity-sensitive MPC-style pads and 8 assignable Q-Link knobs provide the core functionality specifically engineered for rapid production potential, all housed in an ultra-portable footprint.

Express Yourself
Whatever your needs, MPK Mini MKII LE Black empowers producers with essential control thats ready to capture the idea in your head whenever inspiration strikes; dedicated Octave Up and Down buttons increase the keyboard to the full melodic range ideal for playing basslines, chords, melodies and more; a conveniently located sustain pedal input provides expanded control for expressive, immersive performances; finally, an onboard arpeggiator with adjustable resolution, range, and modes for simple, user-friendly and rapid creation of intricate melodic lines.

Plug-And-Play
For maximum portability, MPK Mini MKII LE Black requires no software drivers or external power adapter for operation. Combining plug-and-play connectivity, a seamless USB-MIDI connection and power via a single USB connection to your Mac or PC, MPK Mini MKII LE Black is a portable production powerhouse. Plus, for instant-recall of critical settings, four memory banks enable you to store hardware/software presets for rapid setup of your computer and MPK Mini MKII LE Black on the fly.

Hybrid 3
Hybrid 3, by AIR Music Technology, is a critically acclaimed high definition synthesizer that can create anything from fat, retro synth sounds to edgy modern leads and everything in between.

SONiVOX Wobble
SONiVOXs Wobble is an electronic music grime synthesizer that features two independent channels of spectral morphing synthesis with harmonic controls, individual filtering and discrete LFO controls.

MPC Essentials
With MPC Essentials, charge your production with a powerful 64- bit music production package featuring up to eight pad banks (for a total of 128 tracks), a 1 GB sound library and user-friendly import capability for your own WAV and AIFF samples.
Features:
All-black limited-edition USB MIDI controller with 25 velocity-sensitive synth-action keys with dedicated octave up and down buttons to increase the keyboard to the full melodic range
Innovative 4-way thumbstick for dynamic pitch and modulation control, plus a built-in arpeggiator with adjustable resolution, range and modes
USB powered, robust and ultra-compact design lets you create anywhere
8 backlit velocity-sensitive MPC-style pads with Note Repeat & Full Level for programming drums, triggering samples and controlling virtual instrument / DAW controls
8 fully-assignable Q-Link knobs for mixing, tweaking plug-ins and more
Comprehensive production software package for Mac and PC worth over £150 included: Akai Pro MPC Essentials, SONiVOX Wobble, and Hybrid 3 by AIR Music Tech (downloads)
Specifications:
Note Keys: 25 velocity-sensitive keys; 10-octave range with octave up/down buttons
Pads: 8 assignable backlit pads, velocity- and pressure-sensitive; 4 banks
Knobs: 8 assignable 270 degree knobs
X-Y Controller: 1 configurable thumbstick with 3 modes
Inputs / Outputs: 1 USB port, 1 1/4 (6.35mm) TS input for sustain pedal
Power: USB-bus-powered
Dimensions (width x depth x height): 12.5 x 7.13 x 1.75 (31.8 cm x 18.1 cm x 4.4 cm)
Weight: 1.65 lbs / 0.75 kg





5
/5
You may also like...