This product has been discontinued, take a look at this instead...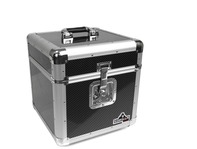 Gorilla 100x 12" Vinyl Record Storage Case (Carbon)

On Order
Next working day UK delivery
Total Impact TIP LP100 Vinyl Record Carry Case - Carbon
Send to a friend
Product Description
The Total Impact TIP LP100 12" LP Vinyl storage carry case record box in cool Carbon finish features strong but light weight design, strong butterfly latches, has large rubber feet and uses high quality foam interior to protect your valued record collection.
This premium range of LP record cases are strong but without compromising on looks, making them ideal not only for archiving or transporting your collection, but also having them on display in your living room.
The extra large rubber feet enable you to stack the cases with ease if buying more than one.

We believe that there is no better value carry case than this Total Impact LP-100 to protect your 12" vinyl LP's at this price.
5 Year Warranty included.
Features:
Holds up to 100 12" LP records
Great as a storage chest for other DJ products
Aluminium Corner Guards
Strong Latches
Light Weight design
Stackable Rubber feet
5 year warranty
Max weight load 18kgs
Dimensions:
External Dimensions:
Width 360mm x Height 390mm (285mm without Lid) x Depth 355mm
Internal Dimensions:
Width 340mm x 340mm (250mm without lid) x 340mm
There are currently no reviews for this product.
Be the first the write a review.
You may also like...